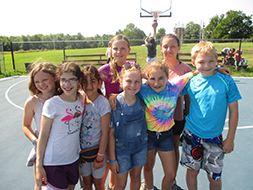 CANCELED–Due to continued safety concerns, we have mutually agreed to cancel all of our out-of-state programs out of an abundance of caution.
July 4-July 9, 2021 (WACkY*)
South Hero, VT
Coed, Ages 6-16
Cost: $1,235 + $50 registration
Financial assistance may be available.
Barton will once again be bringing the fun and excitement of camp to kids in northern New England. The Barton overnight camp program in Vermont is a huge hit with those attending the program. This program is just a short ride from Burlington, Vermont, and easily accessible from upstate New York, northern New Hampshire and Montreal. Located on the spacious Camp Ta-Kum-Ta camp grounds, Barton campers will experience the outdoors, enjoy swimming, arts and crafts, and crazy camp games along with diabetes education! Provide your camper with the skills to live a successful, healthy life with diabetes while empowering them to be who they want to be! This overnight camp is a wonderful opportunity for kids living in northern New England to learn from each other that they are not alone in their school district or county and that they can have fun and make lifelong friends in a fun, safe and educational setting!
*WACkY Session: Campers may bring a sibling or friend who does not have diabetes with them to this session. The sibling or friend will also pay a $50 registration fee and a discounted camp fee of $675. Space is limited for siblings and friends, so please register early. No financial aid is available for siblings or friends without diabetes.