Together with staff who know what making it to the top of a mountain can do for the soul, campers are inspired and empowered to confront their fears, heights, waves, self doubts and rainstorms, all while managing diabetes. "If [you] can tackle a vertical granite wall, [you] can do anything." (Morgan age 16, NY) Embark upon high adventure rock climbing, ride white water rapids, and challenge your comfort zone while summiting some of the highest peaks in New England.
During our Adventure Programs, led by certified guides and diabetes professionals, campers experience a voyage of self-discovery and adventure. Daring teenagers will face both physical and mental challenges and work as a team as they bushwhack their way to both group and personal success.
The Barton Adventure Programs offer more than just a memorable experience, they help change lives!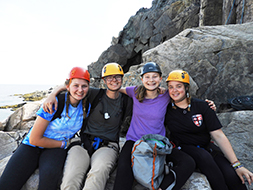 New England Adventure

Date to be Determined
Coed (Ages 13-17) – Space is limited.
Cost: $2,950 + $50 registration
Financial assistance may be available.
Trip will begin and end in North Oxford, MA, at Clara Barton Camp.
PLEASE NOTE: Per our COVID-19 protocols, all campers and staff will be required to be fully vaccinated prior to the start of camp.
DETAILS FOR THE ADVENTURE PROGRAM ARE NOT FINALIZED YET AND ARE SUBJECT TO CHANGE. WE WILL UPDATE AS SOON AS POSSIBLE. WE ARE NOT ACCEPTING REGISTRATION FOR THIS PROGRAM UNTIL DETAILS ARE FINALIZED.
The Barton Center Adventure Program is a truly unique immersion experience that allows a small group of campers to challenge themselves and grow through safe adventures. We take our campers "On the Road" to different locations along the coast and in the mountains of Maine to experience a mix of fun and learning in nature. Adventures may include hiking, mountain biking, rock climbing, rope courses, whitewater rafting, paddle boarding, canoeing and kayaking, and more! Woven throughout all these activities are lessons in natural history, ecology, geology, and culture along the way. We also teach and practice skills in leadership, teamwork, music, wilderness stewardship, and camp skills. Moderate difficulty, some outdoor experience recommended. Please contact The Barton Center for more information.
The Barton Center holds this camp in partnership with Venture Outside, which staffs the program with licensed Maine guides.