At Barton we recognize that diabetes affects the whole family … Mom, Dad, Brothers, Sisters, Grandparents, and even Uncle Pat! Barton family programs provide an opportune time for strengthening the home "diabetes team," talking one-on-one with our on-site professionals and building new and lasting friendships with other families also impacted by diabetes. Whether you are boating on the pond, playing Dr. Dodge Ball, participating in a diabetes education session or singing in the dining hall … we hope you will say "WOW – Heaven on earth – Clara Barton Camp is going to be a second home to our family." (Parent)
Springtime Family/Caregiver Camp
March 11-13, 2022
Coed, All Ages
Cost: $200 per person — Children under 4 are Free
Click here for online registration.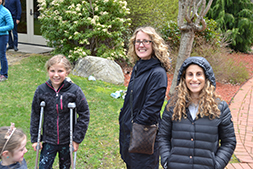 Calling all families and caregivers! We know diabetes impacts the entire family. Attend as an entire family or send your child with aunts, uncles, grandparents, neighbors, or others who are helping to care for your child in your home or theirs. This weekend will include education geared towards the beginner but also sessions for those more experienced in diabetes management. Hear from other families, staff who have diabetes, and trained professionals who will answer your questions. Optional games and fun for all ages from sports to cookie bake-offs.
Barton Open House
May 22, 2022 — 1 p.m. to 4 p.m.
Coed, All Ages
Cost: FREE
Click here for online registration.
Join us at Clara Barton Camp (also the Day Camp location for Worcester program) in North Oxford or Camp Joslin in Charlton for a tour of the facilities and see firsthand what camp is all about. You will have the opportunity to meet with year-round staff, summer counselors, and members of our medical teams. You will see where your child will be sleeping, eating, and tour the outdoor facilities. Bring your camper, family, and friends to get a sense of camp life and fun. Please register all participants who will be joining you or call our office to provide names of those attending. Birthdates not needed. Refreshments will be provided.
Family Camp
CANCELED–Please see our news update on the home page.
August 12, 2021 to August 15, 2021
Coed, All Ages
Cost: $335 per person, children under 2 Free
Financial assistance may be available for the child with diabetes.

Family Camp provides loads of fun, lots of support, and entertaining education for the entire family. Why? Because diabetes is a family disease! This is a camping program for everyone – Moms, Dads, Brothers, Sisters, Grandparents, and anyone else you consider your family. Come play and learn at Family Camp. This is one of our most popular programs, so sign up early!
NEW! Virtual Parent Program
July 8, 2021 — 6 p.m. to 8 p.m.
July 22, 2021 — 6 p.m. to 8 p.m.
Parents/Guardians
Cost: Free
We are offering a new, free virtual program for parents/guardians. There are two sessions, each two hours long. The sessions are open to all parents/guardians–new, returning, those interested in camp, and those whose children are not signed up for camp this summer. The sessions will be comprised of questions and answers with our medical team and staff and will include some breakout rooms for parents to connect.