At Barton we recognize that diabetes affects the whole family … Mom, Dad, Brothers, Sisters, Grandparents, and even Uncle Pat! Barton family programs provide an opportune time for strengthening the home "diabetes team," talking one-on-one with our on-site professionals and building new and lasting friendships with other families also impacted by diabetes. Whether you are boating on the pond, playing Dr. Dodge Ball, participating in a diabetes education session or singing in the dining hall … we hope you will say "WOW – Heaven on earth – Clara Barton Camp is going to be a second home to our family." (Parent)
Springtime Family/Caregiver Camp
At this time, there are no in-person Fall, Winter, Spring programs planned due to COVID-19.
Coed, All Ages
Cost: $260 per person Children under 2 are Free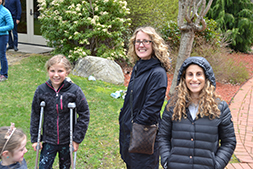 Here at Barton, camp is a family affair! Join us for a weekend of family-oriented games, learning activities, and education. Bring the grandparents, aunts, uncles and babysitters too – there will be education geared towards the beginner but also sessions for those more experienced in diabetes management. Now Dad can put his art project on the fridge, and Mom can shred competition during ultimate Frisbee. Everyone gets the chance to be a camper while we take care of all the planning and cooking! All of this while getting the chance to meet other parents and family members of children with T1D. Come learn the basics of diabetes or increase your education with advanced skills, depending on what fits you best!
Barton Open House
At this time, there are no in-person Fall, Winter, Spring programs planned due to COVID-19.
Coed, All Ages
Cost: FREE
Are you thinking about sending your child to summer camp, but you want to get a sense of what camp is like before you decide? This is your opportunity to come see what Barton summer camp programs are all about: see where your child will be sleeping, eating, and playing while at camp! Come see Camp Joslin, Clara Barton Camp, or Barton Worcester Day Camp. Visit anytime between 2PM to 4PM to meet staff, sample camp life, and tour the property. You choose which camp you'd like to visit. Please register to attend. Snacks and fun will be provided!
Family Camp
CANCELED–Please see our news update on the home page.
August 12, 2021 to August 15, 2021
Coed, All Ages
Cost: $335 per person, children under 2 Free
Financial assistance may be available for the child with diabetes.

Family Camp provides loads of fun, lots of support, and entertaining education for the entire family. Why? Because diabetes is a family disease! This is a camping program for everyone – Moms, Dads, Brothers, Sisters, Grandparents, and anyone else you consider your family. Come play and learn at Family Camp. This is one of our most popular programs, so sign up early!